Odori Site
開催期間:
- ,2020
You can visit Odori site at any time.
(Illuminations turned on at sunset, and turned off at 22:00.)
Odori park: Nishi 1 chome - Nishi 12 chome
1-Chome J:COM Square
official website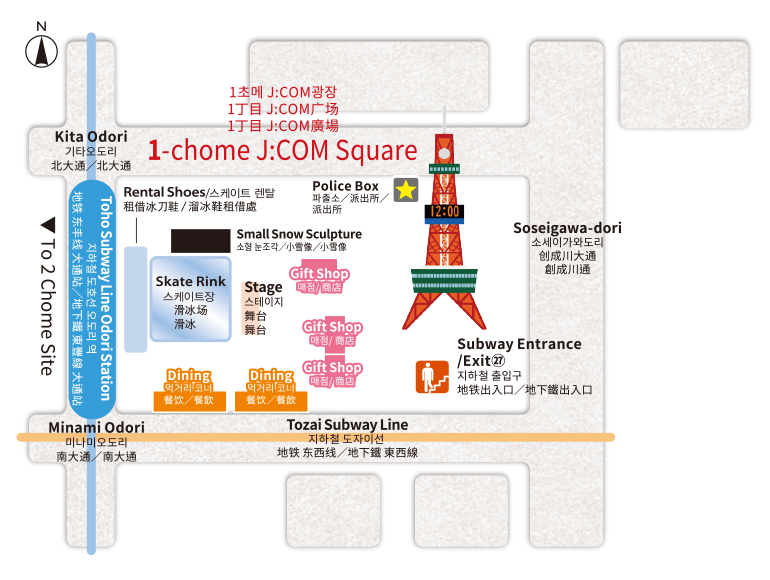 The information here is as of January 2020. It is subject to change.
Skate Rink
The highly popular skate rink from years past will return again to Odori 1-chome! 22 meters from east to west, and 17.5 meters from north to south, it can be an enjoyable experience for the whole family. While it's open, many stage events will also be performed!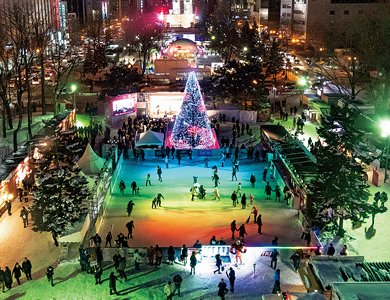 ※Rink availability is subject to weather conditions.
●Jan. 31(Fri) - Feb. 3 (Mon) 10:00 - 20:00 Feb.4,(Tue) - Feb. 11(Tue, holiday) 9:00 -21:00
●Admission (tax included) 60 minute shifts Adults ¥1,000, Children (Elementary and under) ¥500 (Sapporo citizens adults ¥500, children (Elementary and under) ¥300) (Includes skate rental, we have sizes between 16 and 31cm)
2-Chome Kamuy Snow Plaza
Kamuy Snow Plaza is a venue where you can experience cutting edge technology and traditional Ainu culture.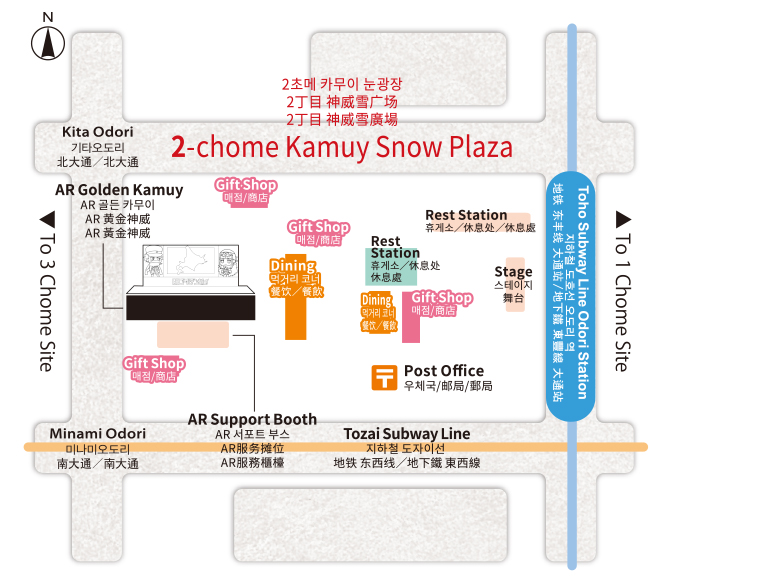 The information here is as of January 2020. It is subject to change.

Anime TV series "Golden Kamuy" AR + Mapping!
For the first time at Sapporo Snow Festival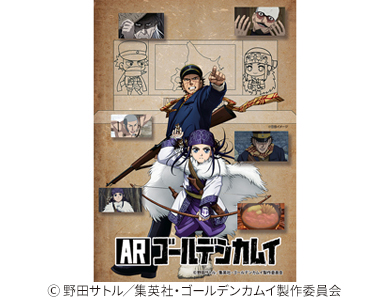 A survival battle anime TV series about a fortune of gold, set in Hokkaido during the final years of the Meiji Period. The hugely popular adventure action drama entertainment which has been extended to a third season makes its first appearance at Sapporo Snow Festival as an Augmented Reality + Mapping Collaboration! Notable points are that until 16:30 it is AR, and after that time it is AR + Mapping, plus the fact that in daytime and nighttime one can enjoy different productions! Download the AR app, and don't miss the world of "Golden Kamuy" depicted by state of the art technology!
Ainu Cuisine Experience Restaurant

Offering traditional Ainu cuisine as well as menu items developed by chefs and cooks who have arranged Ainu food into a more modern styles.

FEEL AINU STAGE

As well as things handed down through the generations such as ancient Ainu dances and musical concerts, we will also hold quizzes about Ainu culture, raffles, and so on.

Ainu Handicrafts Exhibition and Market

As well as displaying traditional Ainu handicrafts, we will also sell many daily necessities decorated with Ainu patterns.
*The pictures are for illustrative purposes.
3-Chome HTB PARK AIR Square
official website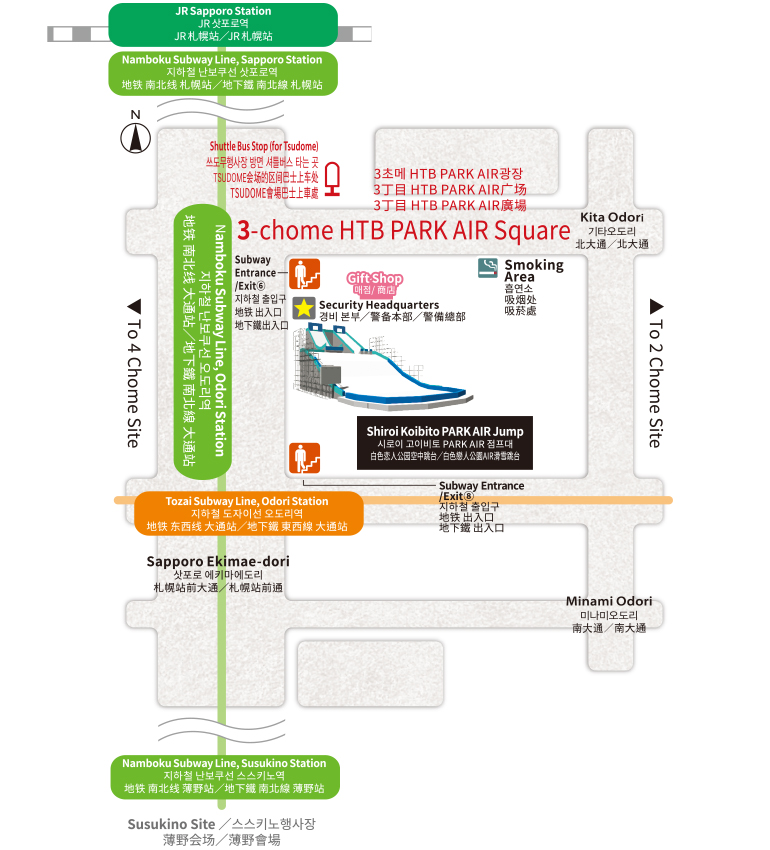 The information here is as of January 2020. It is subject to change.
Shiroi Koibito PARK AIR Jump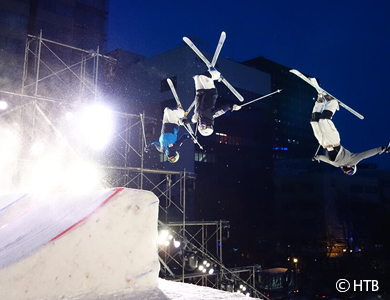 Top class snowboarders and free style skiers from Japan take to the large jump hill 24 meters high and 65 meters long with a maximum grade of 39 degrees. Besides the ski and snowboard tournaments there are junior jump sessions, night sessions and a mogul session on the specially constructed course. Enjoy powerful and exciting jumps!
*Please be advised that there is no seating available inside the venue. Events will be viewed standing.
official website https://www.htb.co.jp/parkair/
4-Chome STV Square
official website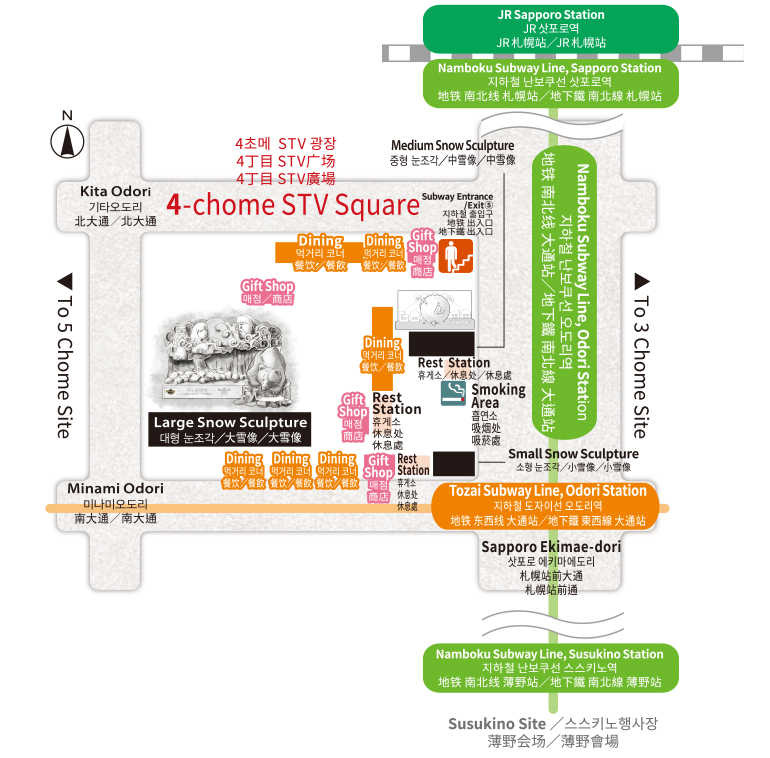 The information here is as of January 2020. It is subject to change.
ALL IS ONE™~The Beginning of Time--an Ainu Creation Myth~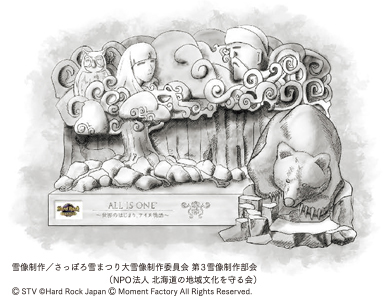 This Snow Sculpture and Projection Mapping Show depict an ancient Ainu creation myth, Ainu Rakkur. When Kanna Kamuy, god of thunder, saw the dazzling beauty of Princess Chikisani, the forest goddess, his fervor was overpowering. As he reached out to her, there was a sudden crack and flash, as she erupted into flames. And out of the ashes was born the most "man-like" deity, Ainu Rakkur.
The Ainu Rakkur story shown here, was borrowed from one of the many creation myths, but namely the one recorded by the legendary Ainu elder, Tasuke Yamamoto of Lake Akan region. So with a sense of awe and honor, we present this Snow Sculpture, which shows the Ainu worldview, the faith that all things are closely connected as ONE, be they man, animal, or spirit. This is the essence of the holy Ainu worldview.
Produced by : Sapporo Snow Sculpture Committee in cooperation with the 3rd Snow
Sculpture Production Group
SUUMO Waku Waku Sculpture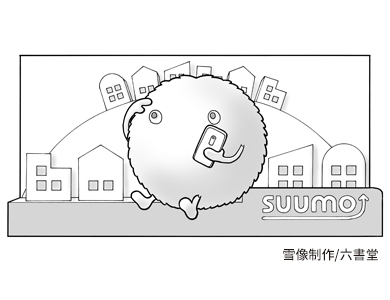 "SUUMO," the mascot for SUUMO Real Estate and Housing Information Service will appear as a snow sculpture! If you find him, make sure you snap a photo with him and exclaim "#Hey SUUMO!"
5-Chome Hokkaido Shimbun Newspaper Snow Square
official website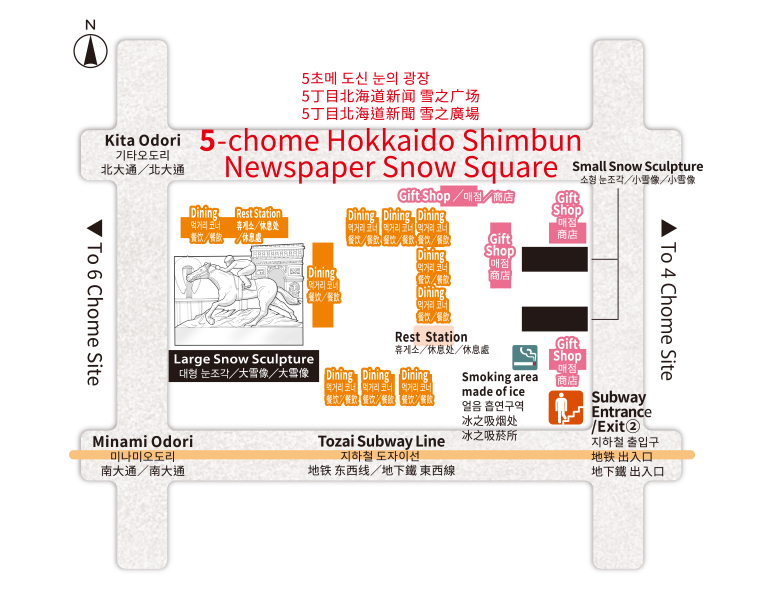 The information here is as of January 2020. It is subject to change.
Galloping Thoroughbreds Aim for the World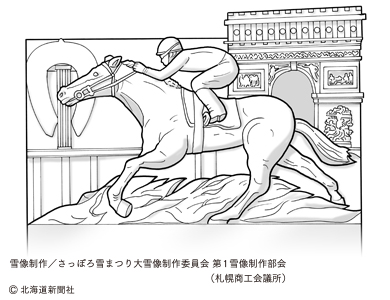 Hokkaido is a major thoroughbred producing region. It accounts for 98% of the thoroughbred horses produced in Japan, and has turned out countless famous horses.The Prix de l'Arc de Triomphe is a race held at the Paris Longchamp Racecourse in France, which opened in 1857. The race itself began in 1920 and has constantly remained one of the world's most prestigious races in terms of history, tradition and highest level of prizemoney.
The northern thoroughbreds born on this expansive land are lovingly raised by their owners, breeders, trainers and stable staff, and become strong horses. Victory in this, the peak of the world's racing, is the desire of this horse breeding region, Hokkaido, and that wish is also contained in this snow sculpture.
The large-scale snow sculpture features thoroughbreds in the center, against a backdrop that expresses the Arc de Triomphe in France. For the racehorses, the trip from Japan to France is a tough challenge, but we hope the sight of racehorses bred amid these vast natural surroundings, chasing the dream on the world stage provides a sense of courage and hope.
Produced by: Sapporo Snow Festival Large Sculpture Committee Sculpture Subcommittee 1
(The Sapporo Chamber of Commerce and Industry)
6-Chome Citizens' Square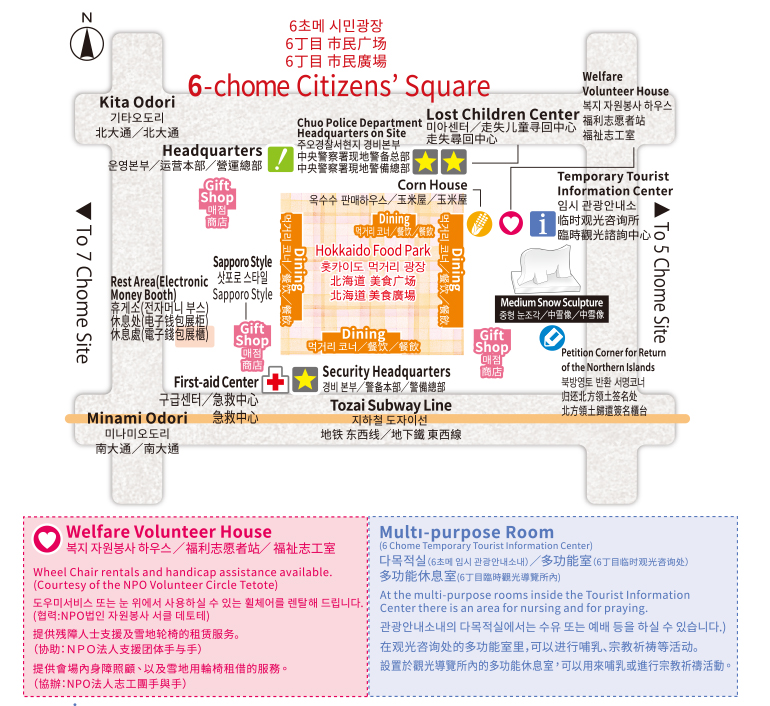 The information here is as of January 2020. It is subject to change.
Hokkaido Food Park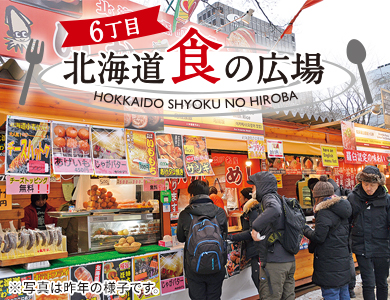 Enjoy the signature winter dishes of Hokkaido! Enjoy ramen, and popular seafoods such as crab, sea urchin, and scallops, zangi (fried chicken), Jingisukan (Mongolian barbecue), butadon (pork bowl), and other appealing Hokkaido foods! This year, the famous Nishiyama Noodle company will open up shop serving delicious Sapporo ramen, and other new menu items such as "shio-koro jingisukan" lamb barbecue will be on offer. Come and fill up on delicious Hokkaido foods that will warm you up!
Umomomo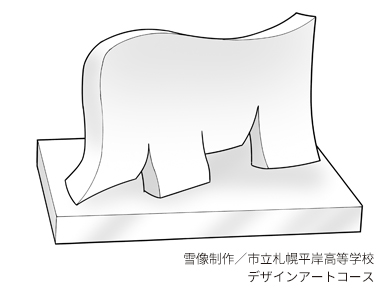 A rare and mysterious creature that appears only during winter.
Where is it going? Waddle waddle waddle....
Produced by:Hokkaido Sapporo Hiragishi High School Design Art Course
7-Chome HBC Poland Square
official website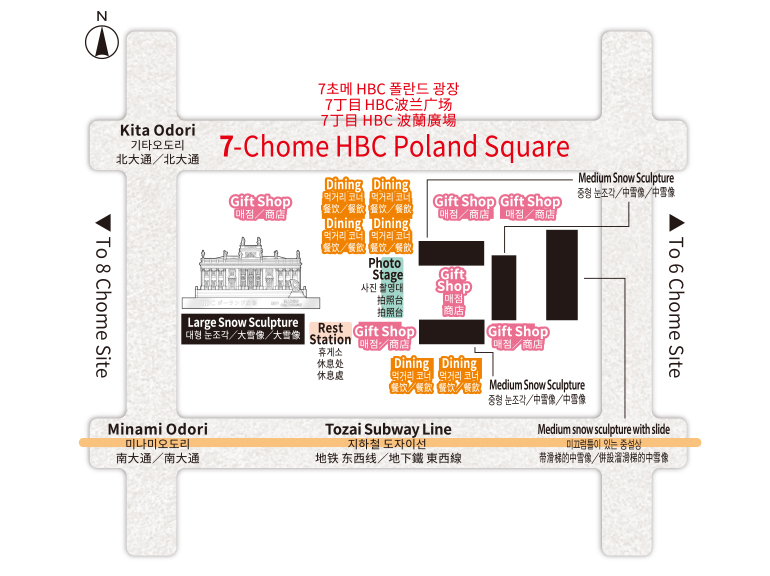 The information here is as of January 2020. It is subject to change.
Łazienki Park's Palace on the Isle and Chopin's Statue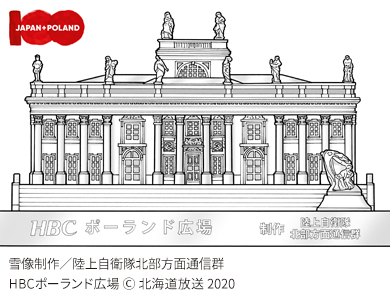 7 Chome HBC Venue is a plaza where friendship and cultural exchange with countries all over the world can be deepened. This time, with the theme of the Republic of Poland, for which 2019 marks the 100th anniversary of establishing diplomatic relations with Japan, we will produce the Palace on the Isle which stands in the capital city Warsaw's Łazienki Park, and the statue of Frédéric Chopin, the poet of the piano, which stands within the park. Łazienki Park is a beautiful park whose construction began in 1776 and took 30 years.
The inside of the park is dotted with numerous historical structures, and particularly impressive is the elegant form of the Palace on the Isle / Łazienki Palace, which looks as if it is floating on a pond within the park. In addition, what emanates a remarkable sense of presence within the park is the statue of Polish musician Frédéric Chopin, erected in 1926. This year is also a year in which the International Frédéric Chopin Piano Competition, taking place in Warsaw once every five years, will be held. Please experience through these two snow sculptures, which the Japan Self Defense Force Northern Army Signal Group will reproduce with their excellent skill, the beauty of the palace which stands on the water and the profile of a magnificent musician born in Poland.
Produced by: Japan Self Defense Force Northern Army Signal Group
"My Hero Academia" ALL MIGHT & IZUKU MIDORIYA
© K. Horikoshi / Shueisha, My Hero Academia Project


Ohta's Isan Formal PR Ambassador / Ohta Inyan projection mapping

OHTA'S ISAN Co., Ltd.
Ⓒ OHTA'S ISAN Co., Ltd.

"Re:ZERO -Starting Life in Another World- The Frozen Bond" x "SNOW MIKU 2020" Emilia & Pack & Snow Miku
©Tappei Nagatsuki, PUBLISHED BY KADOKAWA CORPORATION / Re:ZERO PARTNERS Snow Miku 2020
© Crypton Future Media, INC. www.piapro.net
8-Chome HTB Snow Square
official website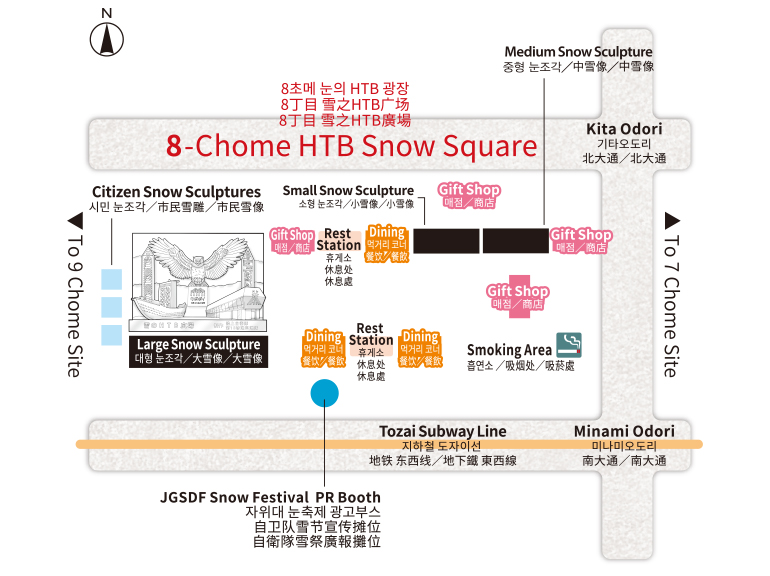 The information here is as of January 2020. It is subject to change.
National Ainu Museum and Park "Upopoy" Opening April 24, 2020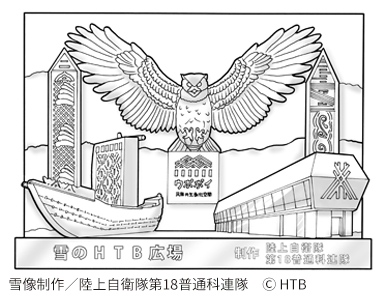 2In the Ainu faith, it was believed that there are spirits living in everything in this world. Most important among these, things that give the blessings of nature to humans such as animals and plants, fire and water, and the necessities of daily life, as well as the weather and other powers beyond human control were all worshipped as gods, or "kamuy." The god of protection "Kotankoro kamuy" (a Blakiston's fish owl) in the center of the sculpture watches over the National Ainu Museum on the right.On April 24th, 2020, the National Ainu Museum and Park "Upopoy" will open at Lake Poroto in Shiraoi, Hokkaido.
"Upopoy" means "singing in a large group" in the Ainu language. As the first National Museum focusing on the history and culture of the indigenous Ainu people, and also the northernmost National Museum in Japan, the complex will include the National Ainu Museum (depicted on the right side of the snow sculpture), the National Ainu Park, a field museum in which visitors will be able to experience indigenous Ainu culture with their five senses, and also a memorial site. The Ainu people are seafaring traders, and historically have used boats both for fishing and transporting people and cargo. The boats that they used on the sea were called "itaomacip." These dual-use boats were able to navigate the sea and also far upstream on large rivers. Until the end of the Meiji period, the Ainu people went to sea, fished, and engaged in trade using "itaomacip." The two "iku-pasuy" prayer sticks at the rear of the sculpture are special tools used to transmit the prayers of people to the "kamuy" gods at a prayer ceremony.The "iku-pasuy"are used when ofterling "tonoto" (sacred sake) to the "kamuy," and many of them are carvet with beautiful patterns. This sculpture was created to represent the beginning of a new voyage into a sosiety of multicultural coexistence with the birth of the National Ainu Museum and Park Upopoy.
Product by:J.G.S.D.F. 18th Infantry Regiment
Inaba Foods "Cat Licking a Churu"
Japan Ground Self-Defense Forces Snow Festival PR Booth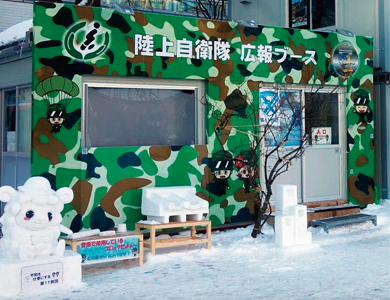 We are introducing the JGSDF Snow Festival Cooperation Unit that helped to create two of our large snow sculptures, haul the snow into the festival grounds, and which will give a musical performance. See the photo panels and DVD to learn how the sculptures were made, and how the JGSDF helped to make it possible. The actual tools that were used to construct the large snow sculptures are also on display.
9-Chome Citizens' Square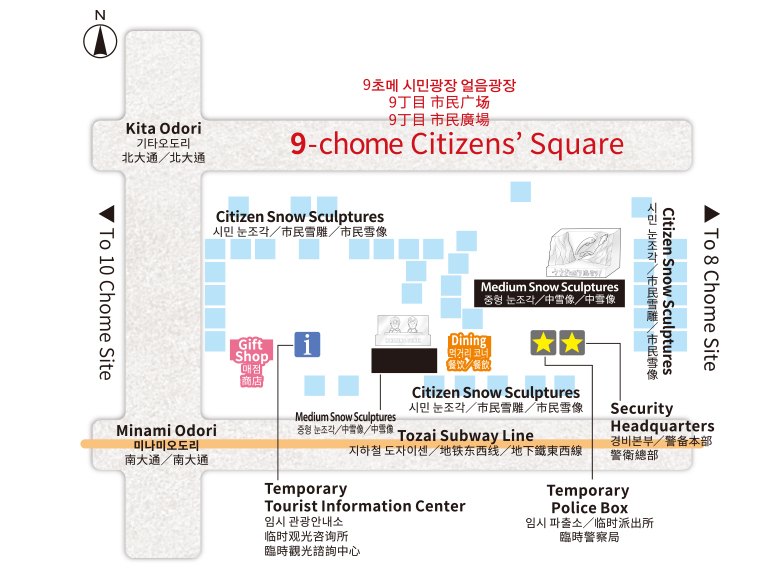 The information here is as of January 2020. It is subject to change.
HIKAKIN&SEIKIN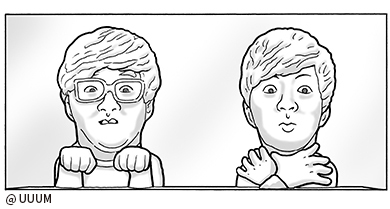 The popular HIKAKIN & SEIKIN, YouTubers who represent Japan are coming to Sapporo! HIKAKIN, with his funny face, and SEIKIN, who realized he has just been poisoned will appear as though they are jumping right out of the video!
Yuimarlu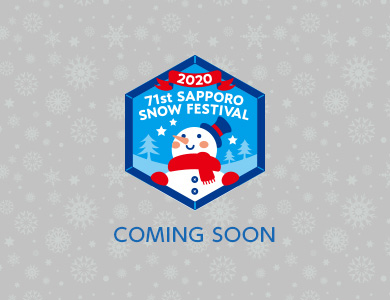 The snowmen and wild animals of Hokkaido will come together in "Yuimarlu," (helping one another) to rebuild the Shuri Castle in Okinawa. We are not used to the heat, so we will make them in Hokkaido and have the whale shark deliver them!
Produced by: 101People's Circle
Eels climbing the waterfalls!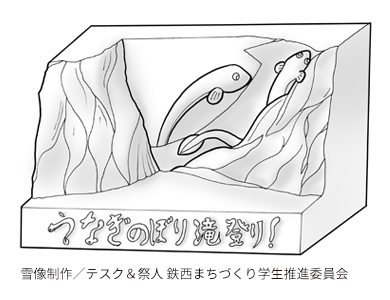 Tesuku & Matsurinchu, the festival group building this snow sculpture, is comprised mainly of Hokkaido University students who operate on the motto "Smiles and Energy!" This year they will be building a sculpture of eels swimming up the waterfall, a theme based on the theme dance song for 2019, "Unagi Nobori Taki Nobori." The meaning behind an eel that continues to swim up, up, and up the waterfall, represents an idea that no matter what sort of difficulties (waterfalls) are set before you, you never give up! It represents two forces, the force of the waterfall, and the force, or will to challenge such difficulties.
Produced by:TSC & Matsurinchu,Tessei Community Development Student Promotion Committee
Citizen Snow Sculptures Various and unique sculptures crafted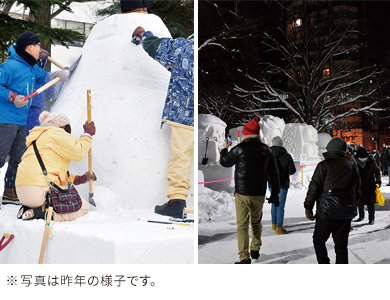 Various and unique sculptures crafted by the citizens of Sapporo.
10-Chome UHB Family Land
official website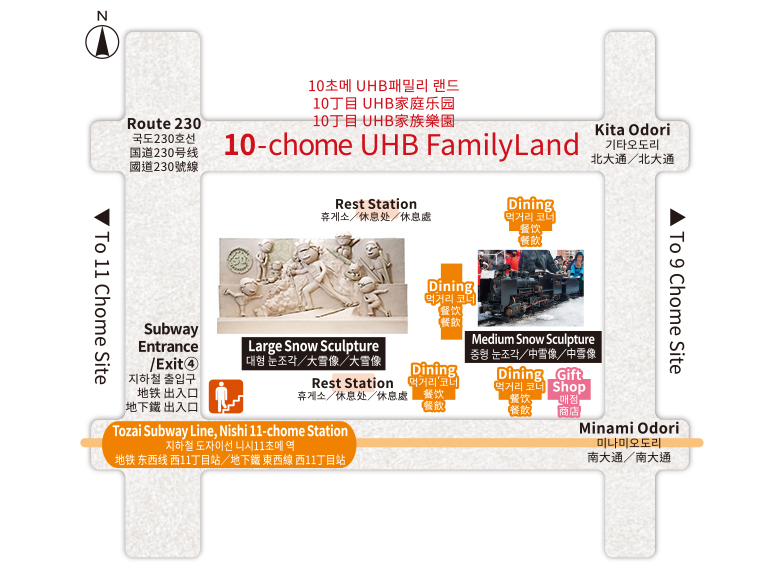 The information here is as of January 2020. It is subject to change.
Sazae-san and Winter Sports in SAPPORO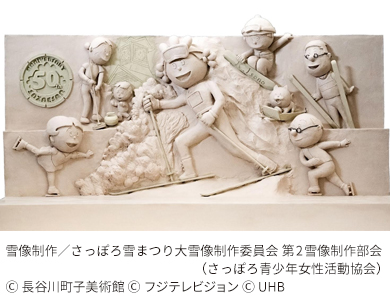 One of the famous Japanese animations "Sazae-san family" appears in Sapporo Snow Festival 2020, to celebrate its 50th anniversary.(Odori Park 10 chome UHB Family Land) It has been 50 years since the first animation "Sazae-san" was on screen in 1969. Since then, "Sazae-san" is loved by wide-range of people all over the world. Please take a look at all handmade large snow sculpture, and Sazae-san family's expressions and moves, enjoying Winter Sports such as Cross Country Skiing, Curling, Ski Jumping, Snowboarding, Figure Skating, and Bobsled.
In addition, Sapporo city has been focusing on bidding "Olympic and Paralympic Winter Games in Sapporo" in 2030.
Regarding to it, "SAPPORO SNOW SPORTS FESTA 2020" which is the first Cross Country Skiing competition for Junior athletes, including Paralympics, will be held in Odori Park on February 16th, after Sapporo Snow Festival. It is not common in the world, to have the Cross Country Skiing event in the center of the urban city like Sapporo.Please come and join us to cheer for the junior athletes there!Produced by:Sapporo Snow Festival Large Sculpture Committee Sculpture Subcommittee 2(Sapporo Youth and Women's Association)
CUP NOODLES & RUI HACHIMURA's SNOW TUNNELS with mini SL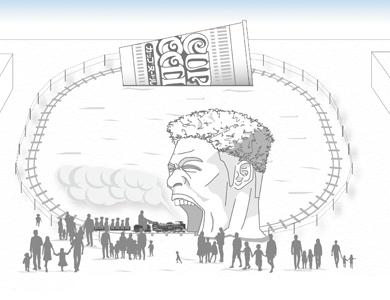 *Photo is for illustrative purposes.
Everyone, even adults, can enjoy this mini Steam Locomotive! It goes through CUP NOODLES & RUI HACHIMURA's snow tunnels.
Also, please stop by at the 10th anniversary of "DONBEIYA" where you can taste "KITA-no-DONBEI" to warm you up!
11-Chome International Square
official website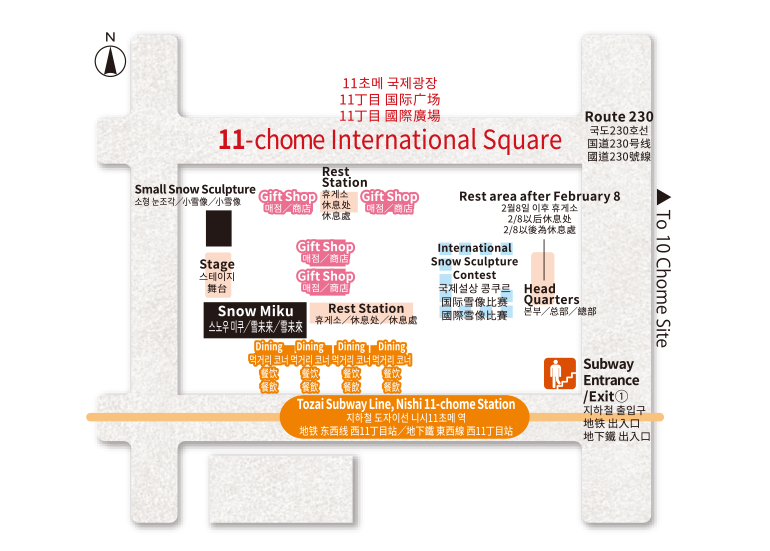 The information here is as of January 2020. It is subject to change.
The 47th International Snow Sculpture Contest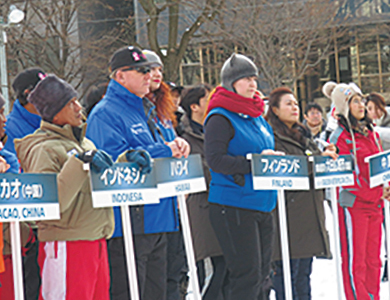 11 teams from all over the world compete in the International Snow Sculpture Contest. Visitors can enjoy interacting with other team members and tourists in this international square.
■Participating Teams: Australia, Finland, Hawaii, Indonesia, Lithuania, Macao, Mongolia, Poland, sister city - Portland (USA), Singapore, Thailand
■Sculpting Period: February 3 (Mon) - 6(Thu)
SNOW MIKU (HATSUNE MIKU) Snow Parade Ver.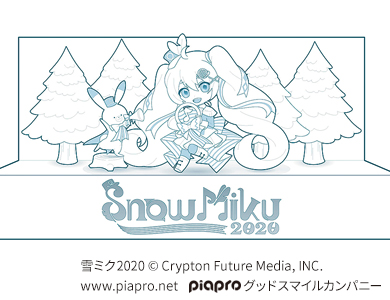 What is "SNOW MIKU"? https://snowmiku.com/2020
"SNOW MIKU" is the character who enlivens the wintery Hokkaido. The design is based on "a pure white snow sculpture of 'Hatsune Miku,'" that was created for "Sapporo Snow Festival 2010." Since then, a "SNOW MIKU" festival using "SNOW MIKU" as a main character has been held in Hokkaido every year. The costume design for "SNOW MIKU" is selected in an online competition on different themes every year, and the theme of the 2020 competition is a "Music instrument evocative of Hokkaido snow." "SNOW MIKU" will liven up Hokkaido this winter, together with all of you creators, as it has done for several years!
Hokkaido Aficionado Expedition Alolan Vulpix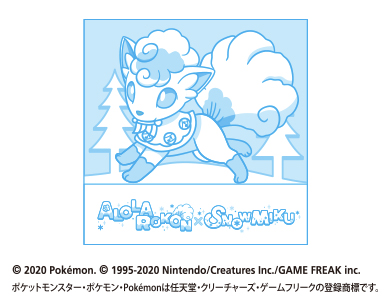 In October 2018, Alolan Vulpix and Vulpix were appointed leaders of the "Hokkaido Aficionado Expedition" to promote Hokkaido to prospective visitors both from home and abroad. The two Pokémon were among the many snow sculptures featured as part of the Sapporo Snow Festival in February 2019. This year, there will be a special version of an Alolan Vulpix sculpture at the festival. It will be adorned with a cute cape, a tribute to its fellow, long-time Hokkaido promoter, "Snow Miku." Snow Miku is a Hokkaido version of the popular vocaloid character, "Hatsune Miku."
International Square Gourmet Street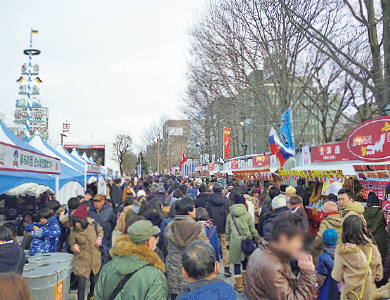 Enjoy delicious local foods as well as foods from overseas, along with delicious Sapporo Beer and Pokka Sapporo drinks while you view the sculptures of each country.
Scheduled Booths

Hokkaido Ramen CRAB GANG / Soba Satoyama with KANI KING / Romanov / OSTERIA Bava / 35stock / Takeda Zangi / Animate Cafe Pop-up Shop
12-Chome Citizens' Square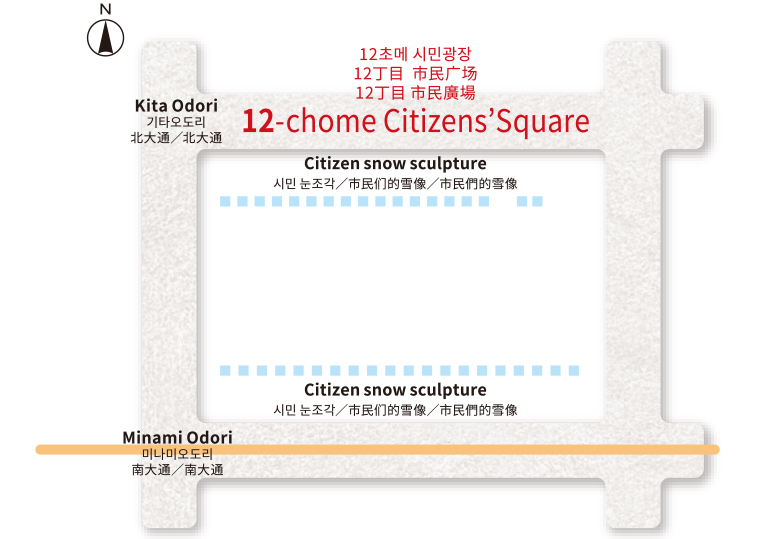 The information here is as of January 2020. It is subject to change.
Citizen Snow Sculptures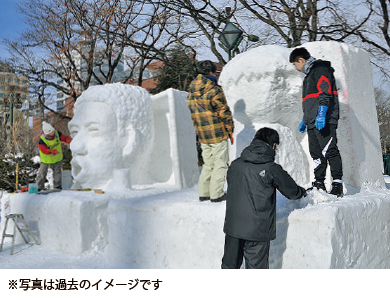 Various and unique sculptures crafted by the citizens of Sapporo.
YUKI-CHIKA
Place:

Sapporo Ekimae-dori Underground Walkway (Chi-Ka-Ho)
Period:

Feb. 4 (Tue) - 11 (Tue, holiday)
Hours:

10:00 -19:00

*Open until 17:00 on the 11th (Tue/holiday)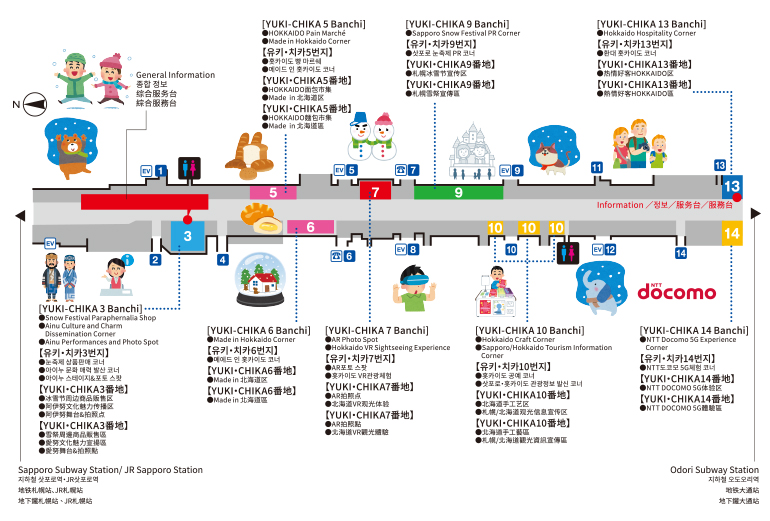 The information here is as of January 2020. It is subject to change.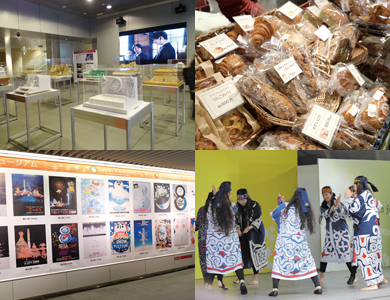 Packed with tons of useful information on how to fully enjoy winter in Sapporo and Hokkaido!
If you are going to see the Sapporo Snow Festival, be sure to go via Yuki-Chika!!