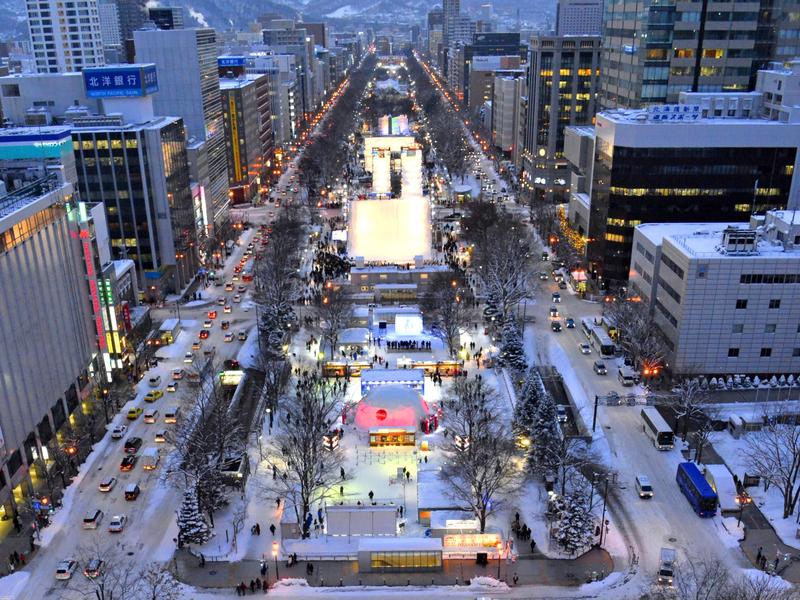 The Sapporo Snow Festival Executive Committee is pleased to announce that the 73rd Sapporo Snow Festival will be held in February 2023! This will be the first time in three years that the event will be live and open to the public. More information about the venues and infection control measures can be found below.
1 Name
The 73rd Sapporo Snow Festival, commemorating the 100th anniversary of Sapporo's incorporation as a city.
2 Dates
Odori and Susukino Venues
Eight days from February 4th (Sat.) to February 11th (Sat., holiday), 2023
3 Venues
The main locations will be the Odori venue (Nishi 1-chome to Nishi 10-chome) and the Susukino venue (Ekimae-dori from Minami 4-jo Dori to Minami 7-jo Dori).
* Unlike in previous years, the Tsudome venue will not be used this time.
4 The Odori Venue
Symbolic of the Sapporo Snow Festival, there will be five massive snow sculptures featured. A variety of other snow statues, citizens' sculptures, and fun winter attractions will also be on show.
(1) Venue Layout (currently planned)
1-Chome: Winter attractions
2-Chome: Small and medium-sized snow statues, citizens' snow sculptures
3-Chome: Small and medium-sized snow statues, citizens' snow sculptures
4-Chome: Large snow sculptures
5-Chome: Large snow sculptures
6-Chome: Citizens' snow sculptures
7-Chome: Large snow sculptures
8-Chome: Large snow sculptures
9-Chome: Citizens' snow sculptures
10-Chome: Large snow sculptures
(2) Postponed Events and Services
In consideration of the continued Covid-19 situation, the following events and services will not be held this year.
・International Snow Sculpture Competition
・Food and beverage stalls (product sales and advertising booths will be set up as usual.)
(3) Countermeasures Against Infectious Diseases (currently planned)
A) For snow sculptors
・Thoroughly implement basic infection control measures such as: building additional rest areas as needed, proper ventilation inside rest areas, staggering rest periods, ensuring spaced seating, setting up partitions, adjusting the number of workers during peak hours, disinfecting and washing hands, and wearing masks except while eating or drinking.
・Conduct periodic antigen testing for those who have not been thrice vaccinated.
B) For visitors
・We ask all visitors to follow basic infection control measures, including wearing masks.
・Streets and walkways are one-way.
・Viewing space and walkways will be managed.
・Security guard rounds and periodic announcements will be made.
・Distribution of information on venue congestion.
5 Other Notes
Event details may be subject to change depending on Covid-19 conditions.
The theme of the snow sculptures and other festival information will be announced at the 2nd Executive Committee meeting to be held later in December.