International Snow Sculpture Contest
"9teams, from various regions of the world, have participated in this year's contest.
The contest site, filled with a variety of snow statues, creates a remarkable international atmosphere.
The participants and the public have enjoyed positive cultural exchanges and have developed new friendships.
Here is the result of the contest: The winning team is Thailand."
46th International Snow Sculpture Competition examination results
Thailand
Betta Brilliance - The Beauty and Strength of Thailand
Macao,China
Sharing Prosperity
| | |
| --- | --- |
| Third Prize | China:Perfect World |
| Fourth Prize | Finland:METSÄNPEITTO "Kamikakushi" |
| Fifth Prize | Korea:bubble |
The 46th International Snow Sculpture Contest Participating Teams
China


Perfect World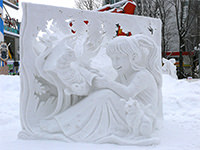 The paper-cut girl cuts out the beautiful nature. The work shows that people yearn for the harmony between human and nature, and they are longing for a perfect world.
| members | profiles |
| --- | --- |
| Wang Ning | Civil Servant, Division Chief of Harbin Foreign and Overseas Chinese Affiar Office |
| Su Shi | Artist |
| Guo Jingfeng | Artist |
Daejeon Metropolitan City (Korea)
bubble/h3>

I expressed the soap bubbles of the child's. Put children's dreams, hopes, and innocence into the growing bubbles of soap and pray for the happiness and joy of our family.
| members | profiles |
| --- | --- |
| Kim Mi-Kyoung | Sculptor |
| Shin Kwangcheol | Sculptor |
| Lee Sungyong | Sculptor |
Finland


METSÄNPEITTO "Kamikakushi"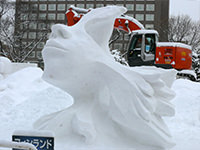 In the tales of the old, it was told, one may fall into the forest' hold. Metsänpeitto, it was called, a space unfamiliar, the great unknown. Fallen ones they turned to trees, they couldn't move, they couldn't breathe. From the outside, it must have seemed like hidden by gods "Kamikakushi", like swallowed by trees.
| members | profiles |
| --- | --- |
| Anna Koivukangas | Visual Artist |
| Ella Kayhko | Visual Artist |
| Katja Dianoff | Visual Designer |
Hawaii


RIDING HIGH INTO THE SUN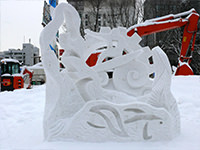 As we ride a nice wave into a peaceful sunny day, we don't see what danger maybe be just on the side or below us that the day may bring. So just do the right things in Life and it will all be ok...
| members | profiles |
| --- | --- |
| Dale Radomski | Ice Carver |
| Charles Matsuda | Ice Carver |
| Norimitsu Wada-Goode | Sushi Chef |
Indonesia


BOROBUDUR TEMPLE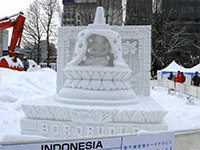 Borobudur was constructed in the 9th century and subsequently abandoned following the 14th-century decline of Hindu kingdoms in Java and the Javanese conversion to Islam. Borobudur has since been preserved through several restorations. The largest restoration project was undertaken between 1975 and 1982 by the Indonesian government and UNESCO, followed by the monument's listing as a UNESCO World Heritage Site./p>
| members | profiles |
| --- | --- |
| Giri Subagio | Chef Artist |
| Sapto Hudoyo | Artist |
| Mulyadi Misja | Visual Artist |
Macao,China


Sharing Prosperity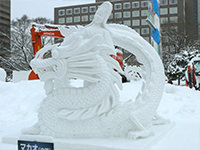 Goddess of Kun Lam, the symbol of kindness and harmony, is one of Macao's popular spots that attract many visitors. Dragon is a traditional mascot of China that symbolizes power, courage and positive energy. With the dragon surrounding the Kun lam Statue, this snow sculpture represents the social harmony and people's prosperity.
| members | profiles |
| --- | --- |
| Perry Yuen | Director of Food and Beverage |
| Tam Kwok Leung | Engineer |
| Lon Hou In | Chef |
Poland


Let's get to know each other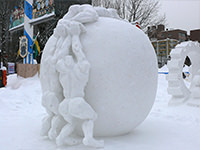 "The sculpture is about the cooperation between Polish and Japanese societies, which being geographically and culturally far away from each other, wants to get closer. It talks about the mutual openness, about building friendships and getting to know each other.
The project is dedicated to commemorating the 100th anniversary of establishing diplomatic relations between Poland and Japan."
| members | profiles |
| --- | --- |
| Tomasz Kolega | Sculptor |
| Piotr Proba | Artist |
| Marcin Brus | Architect |
Singapore


Uniquely Yours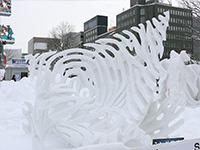 Just like our DNA, no two person shares the same fingerprint. Even if you try to distort them, it is still uniquely yours.
| members | profiles |
| --- | --- |
| Loh Tze Joo | Artist |
| Edmund Chan | Artist |
| Anton Chen | Artist |
Thailand


Betta Brilliance - The Beauty and Strength of Thailand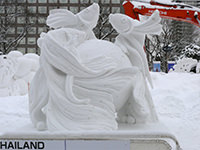 "Pla Kad" or "Betta Fish" has almost 200 years in Thai history. Pla Kad can be easily found in rice field. Thai people and Pla Kad have deep bond similar to Thai people and a river. The way Pla Kad swims is very dignified but gentle like Thai people. Pla Kad has recently became Thailand's nationlal aquatic animal as it has represented a significant role in Thai people's life.
| members | profiles |
| --- | --- |
| Kusol Bunkobsongserm | Employee |
| Amnoaysak Srisuk | Employee |
| Kitsana Wongtes | Freelance |